The 14 winners will be announced on November 16.
Reviews and recommendations are unbiased and products are independently selected. Postmedia may earn an affiliate commission on purchases made through links on this page.
Content of the article
"When I first learned that All the Quiet Places had been shortlisted for the Governor General's Literary Award, I was surprised, shocked and overjoyed," Isaac said in an email. "Then a bit later I had a feeling of fear that my phone would ring and someone would tell me it had all been a terrible mistake. But so far so good. It's a great honor and I am very proud to be part of it."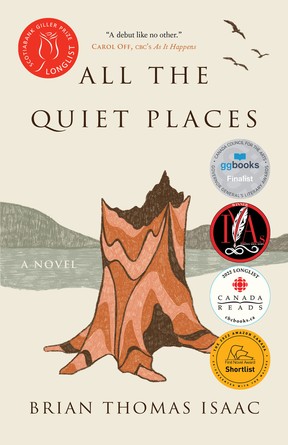 In the drama category, Daniel Arnold and Medina Hahn from Vancouver and Darrell Dennis from Los Angeles are finalists with their interactive play Inheritance: a pick-the-path experience. Vancouver's Dorothy Dittrich with The Piano Teacher: A Healing Key is also on the drama list.
Content of the article
In the Children's Literature — Illustrated Books category, Gracey Zhang from Coquitlam and Kyo Maclear from Toronto made their mark with their book The Big Bath House. In addition, Julie Morstad from Vancouver is a finalist in the same category with Time is a Flower.
Out of 70 finalists (English and French), 14 winners will be announced on ggbooks.ca November 16.
"The Governor General's Literary Awards illustrate the dynamism and constant renewal of our literary scene. The quantity, quality and diversity of books the Canada Council for the Arts has received testify to the creative forces of those who devote their lives to literature," said Simon Brault, Director and CEO of the Canada Council for the Arts. Canada, in a press release. "Books have the power to help us grow; they accompany us on our journey through the complexities of the world and the demands of life, and they contribute to our individual and collective emancipations.
Content of the article
Each winning writer, translator or illustrator receives a $25,000 prize. Publishers receive $3,000 to promote the winning book and ffinalists receive $1,000 each.
A full list of English language finalists is below:
Fiction
All the Quiet Places: Brian Thomas Isaac (Falkland, BC)
Finding Edward: Sheila Murray (Hamilton)
Probably Ruby: Lisa Bird-Wilson (Saskatoon)
Pure Colour: Sheila Heti (Toronto)
The most precious substance on earth: Shashi Bhat (New Westminster)
Poetry
Dream of no one but me: David Bradford (Montreal)
H of H Playbook: Anne Carson (Ann Arbor, USA)
Horrible Dance: Avery Lake (Montreal)
Shadow Blight: Annick MacAskill (Halifax)
Shifting Base Syndrome: Aaron Kreuter (Toronto)
Drama
Content of the article
Everybody's Fair [email protected] the F#ck Down: Robert Chafe (St. John's)
Legacy: Choose One Experience: Daniel Arnold (Vancouver), Darrell Dennis (Los Angeles) and Medina Hahn (Vancouver)
Iphigenia and the Furies (in Taurian land) and Antigone: 方: Ho Ka Kei (Jeff Ho) (Toronto)
Lady Sunrise: Marjorie Chan (Toronto)
The Piano Teacher: A Key to Healing: Dorothy Dittrich (Vancouver)
nonfiction
Aki-Wayn-Zih: A Person as Worthy as the Earth: Eli Baxter (London, Ont.)
All the Troubles Frequent Today: The True Story of the American Woman at the Heart of German Resistance to Hitler: Rebecca Donner (New York)
Generation Dread: Finding Purpose in an Age of Climate Crisis: Britt Wray (Los Gatos, USA)
Persephone's Children: A Life in Fragments: Rowan McCandless (Winnipeg)
Rehearsals to Live: Robyn Maynard (Toronto) and Leanne Betasamosake Simpson (Peterborough)
Content of the article
Children's literature – Text
A boy is not a ghost: Edeet Ravel (Montreal)
Sorry for your loss: Joanne Levy (Clinton, Ont.)
Stage: Deborah Ellis (Simcoe, Ont.)
Summer of Bitter and Sweet: Jen Ferguson (Playa del Rey, USA)
Urchin: Kate Story (Peterborough, ON)
Children's literature – Illustrated books
kā-āciwīkicik / The Move: Doris George (Easterville, Man.), Don K. Philpot (Shippensburg, USA) and Alyssa Koski (Okotoks, Alta.)
Mina: Matthew Forsythe (Montreal)
The Big Bath House: Kyo Maclear (Toronto) and Gracey Zhang (Coquitlam)
The Sour Cherry: Naseem Hrab (Toronto) and Nahid Kazemi (Montreal)
Time is a flower: Julie Morstad (Vancouver)