Russian forces take the working town of Chernobyl; fighting in the center of Mariupol
MARIUPOL/LVIV, Ukraine — Russian forces have taken over a town where workers at the Chernobyl nuclear power plant live, the governor of the Kyiv region said on Saturday, and fighting was reported in the streets of the port. besieged southern Mariupol.
After more than four weeks of conflict, Russia has failed to seize any major Ukrainian city and on Friday Moscow signaled that it was reducing its military ambitions to focus on territory claimed by the separatists backed by the Russia in the east.
However, intense fighting was reported in a number of places on Saturday, suggesting there would be no quick let-up in the conflict, which has killed thousands, sent some 3.7 million abroad and driven more than half of Ukrainian children from their homes. , according to the UN.
Drobitsky Yar Holocaust memorial damaged by Russian forces, Ukraine says
Russian forces fired on a Holocaust memorial near the city of Kharkiv, damaging the site, Ukraine's Defense Ministry said on Saturday.
About 15,000 Jews were shot or forced into mass graves in Drobitsky Yar, a ravine outside the city in eastern Ukraine.
The Department of Defense released a photo of the memorial damaged menorah on Twitter, saying "The Nazis came back. Exactly 80 years later."
Rhetoric about Nazism figured heavily in this war: Russian President Vladimir Putin's reason for invading Ukraine was to rid the country of so-called Nazi elements. Experts called the claims slanderous and false.
'My heart was breaking': American doctors and nurses bring medical aid and skills to Ukraine
Janet Semenova-Hornstein remembers the moment in early March when, looking at the footage of the war in Ukraine, she knew she had to do something.
"My heart was breaking seeing all these women and children," she said.
A pediatric nurse practitioner in Scottsdale, Arizona, Semenova-Hornstein was born in the former Soviet Union, Uzbekistan, and immigrated to the United States with her parents when she was 7 years old. Like her friend, Dr. Svetlana Reznikova-Steinway, who was born and raised in Ukraine and now an emergency physician in Mesa, she felt connected to the area because of her family roots.
"Svetlana and I looked at each other and said, 'What can we do? '" she said. "We both speak Russian. She speaks Ukrainian. We have medical skills. We were two moms living in Arizona, but we knew we had to use our skills and physically do something.
Calling on two other friends with a medical background – Dr. Cheryl Macy, an emergency physician in Phoenix, and Carla Stark, an oncology nurse in the Scottsdale area – they began collecting donations of medical supplies. Within 72 hours, they collected 800 pounds of bandages, antibiotics and emergency medication, including insulin, as well as $50,000 in cash contributions.
Read the full story here.
Internally displaced people watch from a bus at a refugee center in Zaporizhia, Ukraine on Friday.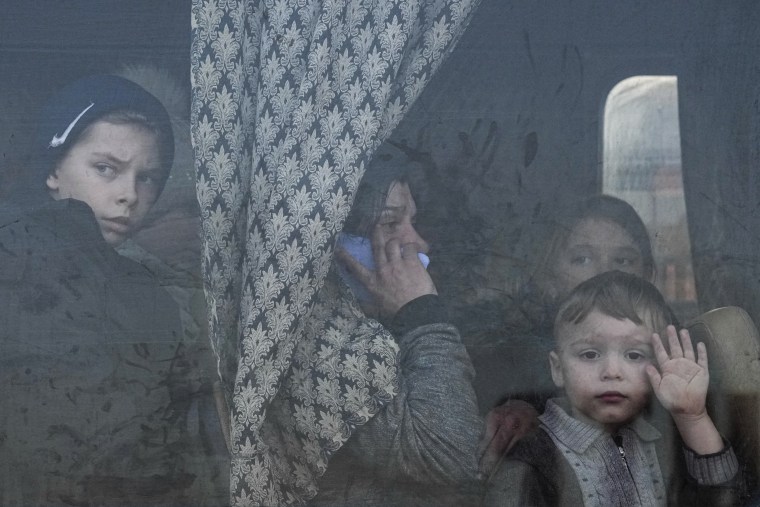 Zelenskyy urges energy producers in Doha to increase production
Ukrainian President Volodymyr Zelensky on Saturday urged energy-producing countries to increase production so that Russia cannot use its energy to "blackmail" the world.
In a virtual address to the Doha Forum in Qatar, Zelenskyy stressed that energy exporters can help "restore justice" and stabilize Europe.
"I ask you to increase energy production to make everyone in Russia understand that no country can use energy as a weapon and blackmail," he said.
He noted that Russia's war endangers more than a million Muslims in Ukraine – and that the disruption to exports due to the conflict will be felt throughout the Muslim world.
"We must have an anti-war coalition that pulls together to ensure that the holy month of Ramadan is not overshadowed by misery," Zelensky added.
Biden's busy schedule in Poland kicks off
President Biden added another item to his packed agenda in Poland on Saturday – passing Secretary of State Antony Blinken and Secretary of Defense Lloyd J. Austin III meeting together with their Ukrainian counterparts.
His trip to Poland spans three days in Europe, where Biden met with world leaders to solidify their unity around the push against Russia following its invasion of Ukraine.
Biden is due to meet Polish President Andrzej Duda at the presidential palace in Warsaw on Saturday to discuss how the United States and its allies are responding to the humanitarian crisis in Ukraine.
He will then meet Ukrainian refugees and the mayor of Warsaw before delivering an important speech on the war in Ukraine.
In this evening speech, Biden is expected to stress the need for unity in the face of Russian aggression and hold Russia accountable for its actions.
More than 100,000 people left Ukraine on Friday, according to the State Border Service
More than 100,000 people left Ukraine on Friday, the country's state border service said in a statement on Saturday.
The National Border Guard Service said more than 66,000 people crossed the country's western borders with the European Union and Moldova on Friday, calling the flow of traffic "constant".
He added that nearly 45,000 people had left Ukraine that night, the majority passing through Poland.
More than 3.7 million refugees have fled Ukraine since the Russian invasion in February, according to the United Nations.
Russian forces entered Slavutych, Ukrainian official says
Russian forces have entered the northern town of Slavutych, home to workers from the nearby Chernobyl nuclear power plant, according to a Ukrainian official.
Slavutych was built to house Chernobyl workers after the deadly nuclear disaster of 1986.
Oleksandr Pavliuk, governor of the Kyiv Regional Military Administration, said in a Telegram message on Saturday that Russian forces had "invaded" Slavutych and seized his hospital. He said citizens gathered in the town square for a pro-Ukraine rally.
Photos posted on Facebook by the Slavutych city council showed a large group of people in the main square, unfurling a giant Ukrainian flag.
NBC News was unable to independently verify the claims, though officials had been warning for days that Russian troops were close to the city and evacuating was impossible. On Friday, Ukrainian presidential adviser Oleksiy Arestovych repelled a first attack on the city.
Putin designates servicemen involved in Ukraine invasion as veterans
Russian President Vladimir Putin has signed a bill that designates military personnel involved in the war in Ukraine as veterans.
The law, which is published on a Russian government website, states that employees of law enforcement and security agencies involved in the conflict will also be considered veterans, according to a translation. He called the ongoing invasion a special military operation, the language constantly used by Putin and Russian forces to describe the war in Ukraine.
In an effort to suppress dissent in the country, the Kremlin has made it illegal and punishable by up to 15 years in prison to label its invasion of Ukraine a "war".
Russia will continue to use 'heavy firepower' in Ukrainian cities, says UK
Russia appears ready to continue to use "heavy firepower" in urban areas and cause further civilian casualties in Ukraine, the UK Ministry of Defense has said.
In one intelligence update released on Saturdayhe noted that Russia continues to besiege several cities – including Kharkiv, Chernihiv and Mariupol – but that its troops seem "reluctant to engage in large-scale urban infantry operations", preferring instead to rely on "blind" aerial and artillery bombardments.
"Russia is likely to continue to use its heavy firepower on urban areas as it seeks to limit its own already considerable casualties," the update adds.
A destroyed Russian tank is seen in this image provided by the Ukrainian Ground Forces, as Russia's attack on Ukraine continues on Friday near the town of Trostianets in the Sumy region.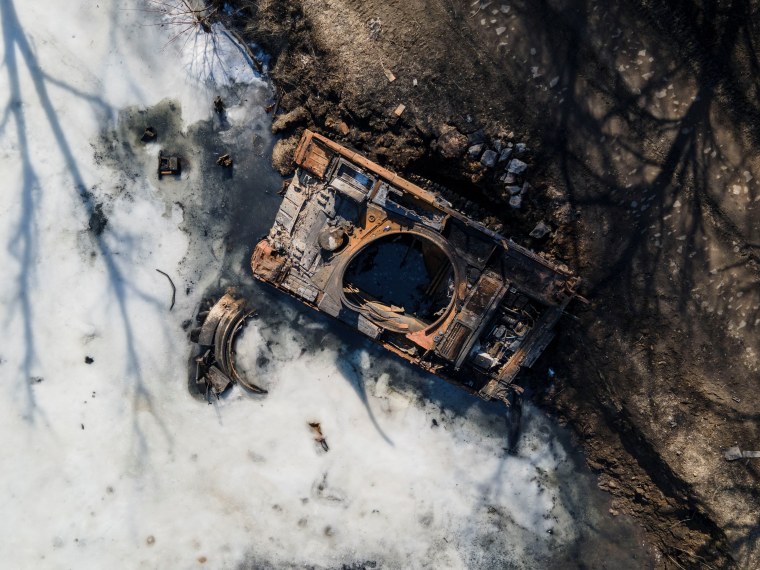 Biden to rally support for Ukraine efforts in speech from Warsaw
WARSAW — President Joe Biden will deliver what he intends to be a major speech here on Saturday about what's at stake for the world and the way forward for a war in Ukraine that will only escalate.
Before the speech, Biden plans to meet with Ukrainian refugees who have flooded into Poland. In Warsaw, where Biden is due to deliver his speech, more than 300,000 refugees have arrived, many seeking temporary shelter in a sports arena, and a steady stream continues to arrive at the city's train station each day.
"He will speak about the stakes of this moment, the urgency of the challenge ahead, what the conflict in Ukraine means to the world and why it is so important for the free world to maintain its unity and resolve in the face of Russian aggression," said Jake Sullivan, Biden's national security adviser.
Read the full story here.
War in Ukraine has killed 136 children, says country's attorney general
The war in Ukraine has killed 136 children, the country's attorney general said in a Telegram article on Sunday.
He added that 199 children were injured and the cities of Kyiv and Kharkiv recorded the highest number of child victims.
NBC News was unable to verify the numbers.
The prosecutor's message came after the United Nations said on Friday that more than 1,080 civilians had been killed in the war, although the true toll was likely "considerably higher".